Pallets are made out of strong seaworthy wood. These pallets can withstand the load of 1.3 tones of material. The dimensions of the pallets depend upon the size of the material. The crates are given numbers accordingly and also stuffed in the container according to the numbers. The would used for the crate the paited for the cause of Bacterial damage.
Method of Packing
The tiles are arranged one by one after throughly checking for defects. For 30cmx30cm sizes there will be three rows and two layers one upon the other, for 40x40cm there will be two rows and one layer. The material is fit tightly so that there are no gaps to avoid breakage during transportation and shipment. Upon request special packing, like the use of corrugated cardboard boxes for more safely, covering of the whole pallet with polythene cover are done. The pallets are given numbers accordingly, on every pallet the name of the material, the size, the thickness and the quantity in Square meters are clearly mentioned for quick verification.
Cardboard Packing
Cardboard boxes which are opened in the center as window are specially used for Calibrated Tiles for greater safety during transit period to avoid chipping of edges. These are cheaper when compared to Styrofoam boxes.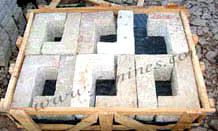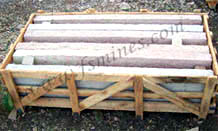 Styrofoam box
Styrofoam boxes specially used for Polished and Honed Tiles for greater safely during transit period to avoid chipping of edges and scratches.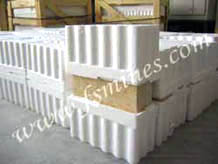 Fork Lifter
Fork Lifter is being used to place the crates in the container. The crates are arranged according to their numbers in the containers and are placed in the correct position so that they are easily removed at the destination.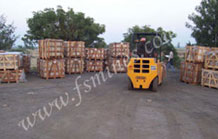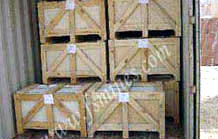 Container Stuffing
We have the full facility to stuff the crates in containers at our plants so it does not cause the breakage of crates.
The crates are placed in the container and all precautions are taken so that the material is safe until it reaches its destination. The crates are plugged tightly with one other so that they dos not way.